Deep breath. Team USA is out, but the World Cup goes on. Before it does, though, we write its epilogue.
Team USA Departs
-J.: Uff da, where to begin? How about with the standard Team USA post-loss assessment: that we're a young team with good energy, but the Belgian game exposed the fact that we weren't quite ready for primetime. Knowledgable sports writers have posited that this is the takeaway from the World Cup 2014, and… it's a little bit of bullshit, honestly.
To recap, Team USA had the worst travel schedule of all 32 teams, played in the most debilitating location (Manaus) more than any other team, sustained significant injuries to three of its most critical players (including its primary striker), and was stuck the ridiculous Group of Death. AND YET, Team USA made it to the Round of 16, where they lost in OT, 2-1, to a team that is a dark horse pick for the Finals. Not only that, they almost won in FT and almost later sent it to PKs. Not too shabby for a supposed not-world-class team from a supposedly fourth-rate continental federation.
Look, I know what the commentators are getting at: they want a U.S. team with a surfeit of techinical skill and limitless depth in their bench. And that's a valid point — Team USA doesn't have a Klose or Lukaku playing as a sub. But evaluating the U.S. as 'merely' Tim Howard + 10 guys who seem to hang around all game is both true and yet missing the point. Commentators value tactical skill and passing ability (like Spain and Italy), they value a roster of world class players from the best league (like England), they value the generational talent that can carry a team (like Ronaldo for Portugal). And yet… how did all those teams fare? Right. Worse than the U.S.
Instead, Team USA's current strengths are world-class goaltending, stamina, and mental fortitude. In this World Cup, in these stadiums and these circumstances, playing to our strengths got us a better result than a those European powerhouses. I'm eager to see how we build in the next four years.
France vs. Germany
_Insert Historical Reference Here_
-J.: Both teams had to beat determined African teams to get to the Quarters, and France seemed to have more ease doing so. Then again, Nigeria made the knockout stage by the grace of a couple really favorable ref decisions, so I'm not confident in that comparison. Honestly, I had Germany as a favorite to make the Finals this World Cup, and I don't see France as a team to stop them. Alex?
-Alex: I'm actually picking Les Bleus here. I have no idea why, but they've been riding high in my estimations throughout this tournament. They're young, seem to play cohesively (which is a huge thing for a French team), and have an outstanding pedigree. I don't know that they will make the Finals, but I like them to sneak past the Germans here. The Germans strike early, but the French hang around and advance with a late goal. The Schlieffen Plan is doomed again!
-J: We made you wait for the historical reference. You're welcome.
UPDATE — Apparently, more than a half-dozen German players have taken ill. The number includes their #1 offensive threat, Thomas Müller, who may be displaying symptoms of the flu. Ugh. I still pick Germany, and expect Müller to go full Michael Jordan in this game.
Brazil vs. Colombia
James vs. Neymar
-J.: Before this World Cup started, I had Brazil right next to Germany as fighting it out to get to the Finals. I also didn't know how strong Colombia would be without Falcao. Now, however? I'm siding with Colombia to beat Brazil. The Seleção were stymied by a determined Team Mexico, and needed penalty kicks to advance past a hungry Chilean team. Meanwhile, James Rodríguez is the tournament's top scorer, and Colombia is riding him deep into the knockout stage. Do you smell the same upset, Bean?
-Bean: I do! This Colombian team has just looked fantastic to me. No one blew through their group by such a margin, nor handled their R16 match with such ease. By contrast, Brazil has looked downright lucky to even get this far. It was a very even match overall, but last weekend's game still feels like one that Chile deserved to win. For a massive home favorite to advance purely from luck (stupid crossbars!) and penalty kicks is… not great. Los Cafeteros move past Brazil and put themselves in the drivers' seat for the finals.
Argentina vs. Belgium
Messi, Deliver Us From Low Countries
-J.: I… I don't know. Argentina rolled through a weak group, though not exactly convincingly. It beat the always-underachieving Swiss, which was expected. They don't look like the odds-on runner-up that fivethirtyeight.com has them as. But, but… the tournament is hosted by Argentina's neighbor, and there's the simple fact of Di María + Messi = La Albiceleste will score goals. Plus, Messi is a transcendent player & statistical anomaly. Belgium also rolled through a weak group while seemingly conserving energy, which it unleased with terrible effectiveness against Team USA. I don't know. Come back to me. What are your thoughts, Alex?
-Alex: Belgium seems more talented across the board, but even when they dominate a game it doesn't really show up (Hello, Tuesday afternoon against the U.S.). Like you said, Argentina hasn't looked great, but they've taken on a Team of Destiny™ vibe in my head. A transcendent superstar leading the attack has been enough for Argentina before. It feels like Messi is stepping into those golden boots this tournament. Another late, jaw-dropping goal because of him will send Argentina to the semis.
-J.: You talked me into it. Back in our first set of predictions, my guideline was "don't bet against CONMEBOL teams without a good reason this World Cup." Belgium gave a good reason against the U.S., but good enough? Nah. I'll pick Argentina.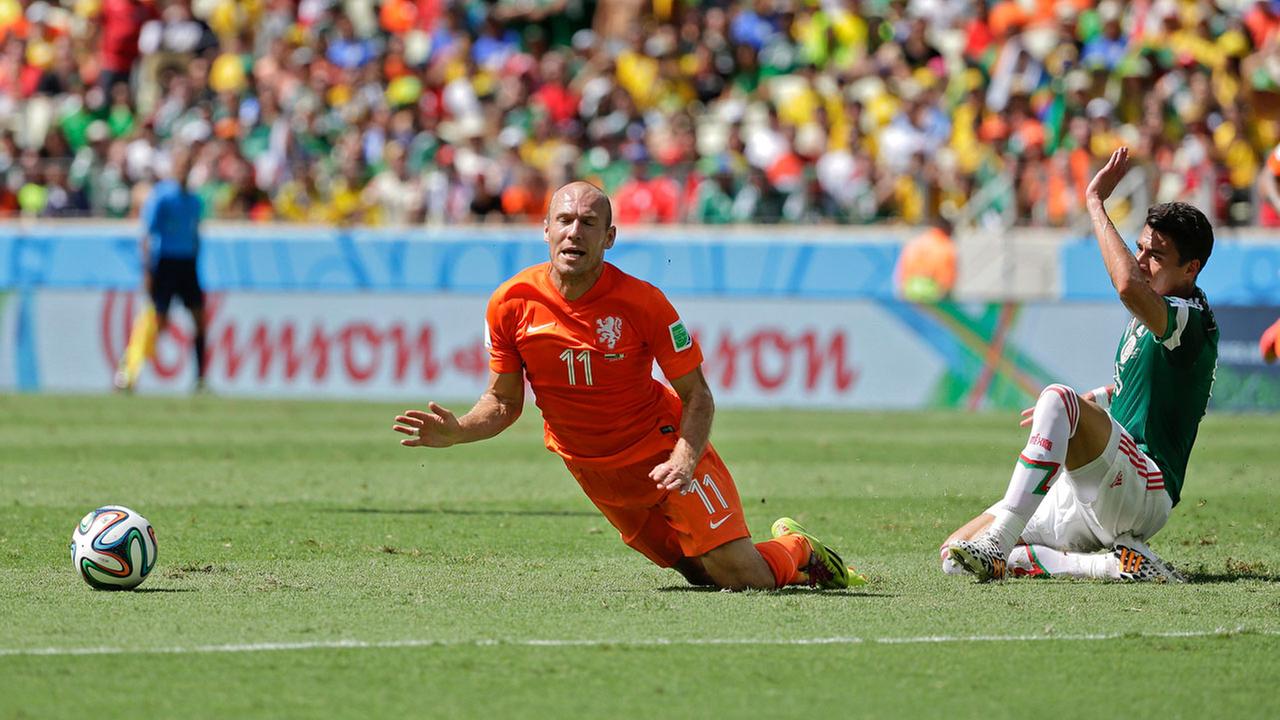 the Netherlands vs. Costa Rica
Immovable Object Meets Unstoppable Force
-J.: I really want Costa Rica to win this. I really do. I want to see the utter shock of CONCACAF making the Semis. I want to see Joel Campbell confound the Oranje. And I think that maybe they could've done so, if Greece hadn't beat the shit out of them in their last game. Los Ticos played 120 minutes, most of which was with only 10 men on the field. They looked utterly dead at the end. The Netherlands, on the other hand, beat another CONCACAF team in extra time thanks to a gift PK from the ref. I think the trio of Van Persie, Sneijder, and Robben will be too much for Costa Rica. Agreed, or do you think there's some Costa Rican magic left, Alex?
-Alex: Sadly, no. The CONCACAF Thunder will end in this match. It's been awesome to watch this Costa Rican team's run, especially as they took it to some of the heavyweights of global football. Their group had 7 former World Cup championships between the 3 other nations. Costa Rica had never made it past the Round of 16. So Costa Rica just kicked England, Italy, and Uruguay in the teeth and placed first in the Group. Then they tenaciously hung on to beat that fuckwad Greek squad last weekend, which was incredibly satisfying. But the World Cup doesn't have Cinderella champions. It just doesn't happen. So Los Ticos will fight hard, but they don't have the skill to take on the Dutch man-for-man and that advantage will cash in eventually.
…
There we have it. Happy 4th of July, when we'll be able to mix fireworks and grills with some great World Cup games.