I am writing these sentences just ten minutes or so before the commencement of the 2012 Summer Olympics Opening Ceremonies. This is the second event the Addison Recorder has deemed worthy of keeping a running diary during. Like the first, it has a lot to do with sports…indeed, the Olympics are in my mind the epitome of sports, the greatest athletes in the world competing for national pride and the chance to break some records. But the Opening Ceremonies in particular are a mixture of athleticism and culture, a chance for the host nation to revel in their heritage and promote it for the world.
And after that high-minded introduction, inspired by my own lifelong love of the Olympics, so much that I've read reference books about the games cover to cover, I will promise to be irreverent and biting about the Ceremonies.
England has not hosted the Olympics since 1948, when Clement Attlee was pulling the U.K. out of its wartime haze. Now, in 2012, London is arguably the soundest world financial capital, England's moving along pretty darn well compared to us, and their aesthetic standards since the war guarantees an event like no other. Oscar-winner Danny Boyle has put together the show. Knowing and loving Boyle's films…this could go many ways. What if he draws some ideas from his own work? Giant, flashy, A.R. Rahman-style dance numbers and whimsical interactions between children and supernatural figures? I'm game! Heroin-addled hallucinations and men cutting off their own arms? Not so much. Zombies? Maybe.
FIRST SEGMENT
Sunsets, castles, the White Cliffs of Dover, the Globe Theatre…some place that looks oddly like Hogwarts. How many people will know what the Globe is? I appreciate the name-checking of Jane Austen, Lennon & McCartney, and Roger Bannister.
They have a great hook for the introduction: Greenwich being the center of time, they relate the events to time and precision. They also include shots of people whom the kids might think are second cousins to Hawkeye and Katniss. Seriously, has archery ever been this recognized before?
Nice use of the word "effusive." Nice showing of the Winston Churchill statue. But…yes, fairy tales end, no matter how much we love William and Kate and how much we want everybody to win.
Few musical compositions are more comforting to hear, more reassuring of tradition, than John Williams's fanfare. Few voices equally take me back to the continuity of my life since childhood than Bob Costas. He hasn't even seemed to age. To think that he got as start at age 22 and accidentally said the words "blow job" in his second ever broadcast.
Tom Brokaw is reassuring the world that London is as prepared as possible to host the action and keep everyone secure…and that Boris Johnson is the latest in a delightful line of eccentric Englishmen. NBC has to make fun of someone's hair since they can't make fun of Donald Trump.
Keep Calm and Carry On. Over/Under?
I'll say this as well: despite the artsiness and the poetic narration, there is never anything as powerful as when these athletes speak for themselves…so many of us will never know the work it takes to reach this point, and their scant words always say more than the most grandiloquent commentary in the Bud Collins manner.
SECOND SEGMENT
Matt Lauer points out that the stadium is in the East End. Oh boy! We're gonna have kidnappings, murders, arson, lots of steamy sex, and a few cases of amnesia up the wazoo!
Danny Boyle's goals.
1) Celebrate the Isles.
2) Pay beautiful tribute to Frank Boyle, who loved sports, who would have been 91 today.
3) Don't embarrass the U.K.
4) Keep Sir Paul from singing one of his more embarrassing songs.
Ryan Seacrest talking sports is like Phyllis George hosting the morning news.
I wonder what's in Justin Bieber's care package. I'd imagine weightlifters would find it more useful than gymnasts…all the more eager to drop the weight on the darn CDs!
THIRD SEGMENT
Danny Boyle is breaking into his 127 Hours style, only now he's following the Thames and showing happy cartoon figures? Umbrellas? Trains? Geese? The Oxford-Cambridge race?
I finally get some "Isles of Wonder" when there's a sudden cut from cricket to a pig over Battersea to London set to…amazing footage of the Tube. These are wonders.
Great soundtrack as well…the Sex Pistols and the Clash…who would have thought "God Save the Queen" would celebrate this country?
OH MY GOD HE BUILT A CROSS BETWEEN WESSEX AND THE VILLAGE FROM "THE WICKER MAN" IN THE STADIUM!
Bradley Wiggins, Tour de France champion, rings a 27-ton bell. If Monty Python was doing this, he'd get a 16-ton weight on him next. But in all honesty, he looks very humble, very trim, not like Armstrong. (Isn't it sad what a cloud has fallen?)
"Jerusalem," sung by a solo voice, while the idealized village green activities of maypoles and wrestling and horses and cricket go on. I love this song so much…that William Blake wrote an unofficial anthem for his country is so magical. If only Meredith Vieira would shut up over it!
A fantastic medley of traditional English songs and hymns set to footage of the isles…and back to "Jerusalem," and the stadium cheers when "Bring me my chariots of fire" is sung.
It's Kenneth Branagh with horrible sideburns! But he's pulling off a great Henry Irving as he declaims lines from The Tempest to the world. In keeping with English tradition, all the working classes and farmers stop everything they're doing to listen to the man in the top hat. If I was in charge, I would have some John Stuart Mill read at one point. Especially since the world needs to be reminded of Mill these days. But I'm not in charge.
FOURTH SEGMENT
Evelyn Glennie, the deaf Scottish percussionist, leads a magnificent drum cadence as Boyle depicts the Industrial Revolution. Coal-stained faces, burly men with man boobs, clothes and expressions straight out of Dickens. Boyle correctly thought this was, if not the most important development in history, one of them, and a thoroughly English one.
Everyone in this part of the show is a volunteer, sworn to secrecy! Bloody awesome. Though I wonder if the people dragging parts of scenery around are pissed at the proper gentlemen doing variations of the Robot.
Lauer: "It's real grass, real plants, real sod."
Vieira: "And it's real heavy."
YOU THINK?
The smokestacks rising from the floor are an inspiring, majestic sight, perfectly choreographed with the music and action. This will be the only time in my life I'll ever call smokestacks inspiring.
Branagh pops a self-satisfied cigar in his mouth…and the scene cuts to the suffrage movement, scenes of tiring workers. I'll hand it to Boyle for honesty.
World War I was a moment as transformative as the Industrial Revolution, and somehow the whistle, so light and weak yet sounding, is perfect music to watch a poppy by.
Danny Boyle's idea of a carnival: pensioners from the army (for real), Sgt. Pepper-lookalikes, the Titanic, uh, the One Ring to Rule Them All being forged before our eyes, Kenneth Branagh still happily smoking a cigar, people in rhinestone-studded black vests—no, I don't know what that has to do with England—top hat guys performing modern dance, lots of Indians banging on percussion of their own, the construction of an entire map of London…this is no carnival, this is a "Let's fill up every inch of space with everything I can think of" display.
But it works.
The rings rain fire down on everyone. Hopefully I won't read about a giant blitz in the papers tomorrow…
Do you know why I love England? I could see it in these faces…how much they sincerely revere this, revere the history and institutions and tradition. There's a culture which links back to the past and loves it. We are so determined here to bend the past to our own purposes, to spit on what doesn't suit us.
It's sad.
At least we have Morgan Freeman.
FIFTH SEGMENT
From "Isles of Wonder," we go to "Happy and Glorious," with…James Bond in Buckingham Palace, trailed by dogs.
JAMES BOND IN BUCKINGHAM PALACE. Daniel Craig himself, walking through these halls, with the ACTUAL ELIZABETH II. I watched Goldfinger, my first 007 movie, with my grandfather, who took my mom to see it in theaters. This is a total mindf**k. The adolescent fantasy is now the center of the most revered moment of them all.
You DID NOT have Churchill smile and wave. You DID NOT. That's a completely different line to cross.
Now please have a Doctor Who reference before the night is over. Please? The 10th Doctor lit the damn torch! It's not that hard!
Wait…Elizabeth II skydives…okay.
It's hard to imagine a world without Elizabeth II. She's been the queen since before my parents were born…a woman who lived up to her duties, reduced as they were, and inspired love and not disdain despite the anachronism of monarchy. I think William and Kate could indeed inspire the same. Charles…that grin, no.
"God Save the Queen" performed simultaneously in sign language is a great touch…and there are so many little English roses in the choir. Something nice, simple, and moving after James Bond.
SIXTH SEGMENT
Wait…he's linking up children's lit and the National Health? How do you make that connection? And why does the music sound like "Tubular Bells?" Oh, because it IS Mike Oldfield playing "Tubular Bells!"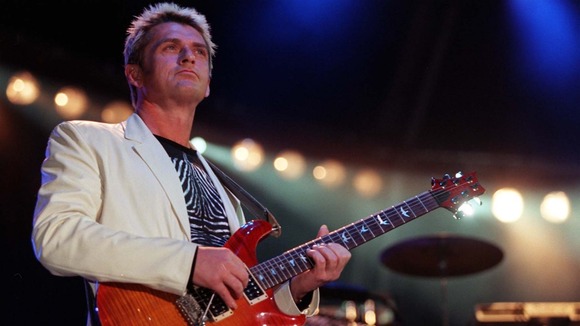 To make this further clear, the music from The Exorcist is providing the background for the poor sick children.
Now I feel like I'm in a bizzarro Maurice Sendak, "In the Night Hospital" or something like that. Only problem with this choreography, which is excellent (if thoroughly American) is the vast empty space in the middle at first. They're dancing around nothing, vast wasteland…a metaphor for our own thoroughly American health service. Wait, service is the wrong word, wait, I'm not talking politics during this. Sorry.
JK Rowling is the first female celebrity to grace the stage. A brilliant choice to read a story. And I'm getting sick of Lauer and Vieira's insipid commentary over what is turning into an inspired production. I feel like I'm watching a magnificent children's pantomime…with Gerald Scarfe style puppets. All the while, Oldfield is rocking the guitar with plenty of passion.
Mary Poppins banishes Voldemort with her clone army, and Oldfield strikes up "In Dulci Jubilo." This is the most unexpected combination of song, dance, and effects possible, and it is beyond delightful. As long as they don't try to fit "Moonlight Shadow" in…kind of not fitting.
Children getting tucked into bed by kind nannies and nurses. Isn't that the one great ending? To feel warm, to feel safe, to be home…that's why they compete, for the honor and glory of home, and Lauer, SHUT UP. "I don't know if that's cute, or creepy." You're ruining every moment…I have never heard worse commentary in my life.
SEVENTH SEGMENT
Rowan Atkinson playing the Chariots of Fire theme and taking his picture on an iPhone, then sneezing…okay, the umbrella gag was funnier than it had any right to be.
The opening sequence…Ian Charleson, rest in peace, Ben Cross, Atkinson getting left in the sand and looking like Jay Sherman running the New York marathon (also called by Costas).
For those of you who don't know, Chariots of Fire is one of my ten favorite movies of all time. An inspirational and genuinely faith-based story done with class, charm, wit, and brilliant, understated acting. The best sports movie ever, yes, better than Rocky and Caddyshack.
The last exchange between Atkinson and Sir Simon Rattle was divine.
Still can't get over the sixth segment, though. I don't know why Boyle thought of Oldfield, but it was a brilliant call. Oldfield's music is thoroughly modern but also traditional as all get-out, and he gave some weight to the fun.
EIGHT SEGMENT
Car drives up…and out comes Frankie and June, who have apparently been invented for the night? I think? I'm not trusting Lauer and Vieira for any more details. And I'm still wishing he would shut up.
Black Adder!
This is Boyle's first misstep. I understand the idea, but it's not being executed well, and you can only see the main effects if you're watching television. At least he's playing The Jam…because "Going Underground" is always and forever a great British youth anthem.
I wish I could mute this, but then I miss the music.
Clapton. Gregory's Girl. City Lights. The Who. Uh, Dalek dresses? Boyle is at least making the right choices. "Satisfaction" being one of them. And GOD WILL YOU SHUT UP PLEASE?
"My Boy Lollipop!"
For a terribly conceived dance number, Boyle has made all the right moves. Mud, Queen, the Kinks, Zeppelin, Bowie as Starman, perfect clips from Ken Loach and Michael Powell…
And that was a horrible commercial break.
Seriously, Boyle has indeed picked the greatest British pop music possible for this…and the clips from A Matter of Life and Death and Kes said more about the British cultural heritage than any of the people moving on stage.
NINTH SEGMENT
"Blue Monday," the song which will always save the human race. And yes, they found a "Frankie Says Relax" T-shirt. Boyle is nothing if not authentic.
Okay, this is the most random "I'm Forever Blowing Bubbles" in history, and a nice set of kisses.
Dizzee Rascal…I have a soft spot for him, maybe the only man to ever go toe to toe with Florence Welch. He seems to have borrowed Nelly's look tonight. Now they're playing that "We will be victorious" song I have no clue about.
Tim Berners-Lee is the most unusual man to ever feature in an event of this kind. Name me one man more unusual. And I'm glad he's being honored. He gave the most sprawling means ever to achieve some kind of freedom.
The fireworks on London Bridge were a wonderfully classy sight. Though David Beckham on a rocket-powered boat is a little too much. It seems that Boyle keeps coming up with great ideas and NBC keeps ruining them.
TENTH SEGMENT
Ryan Seacrest looks like a slightly not all there Kennedy. The shots of parade preparation were more fun than that interview.
ELEVENTH SEGMENT
Okay, it is time for the 204 countries to march through the stadium…and for the wonderful voice of reason, Bob Costas, to return. This is definitely the highlight of Greece's year, sad to say. The American Samoan costumes are amazingly traditional. What I always hope to see every year is a country win its first medal…it's the whole "Any Given Sunday" writ on the grandest of scales. There are some events where it would indeed be possible.
As a former Los Angeleno, I have a soft spot for the Armenian team.
The Australians look rather happy.
Okay, I have not been commenting on the commercials, but any chance I have to see John Cleese being John Cleese is a chance I treasure.
TWELFTH SEGMENT
Miserable Fat Belgian Bastards competing in the Olympics. I actually feel sorry for Matt Lauer, who has to come up with something to say for everyone. I feel happy for Brazil. Growing country and rising in a great athletic tradition.
THIRTEENTH SEGMENT
Line of the night from the wonderful Mark Harris: "This is actually a found-footage horror film about 3 Americans in London who learn that if they stop talking for 2 seconds, they'll die."
What astounds me is that there are still nations who are sending women to the Olympics for the first time. I realize there are so many circumstances and restraints, but if you have willing people who can compete…I feel the IOC should do more on this score if they could.
Bob Costas makes a confusing and not funny joke about subtitling movies in the Central African Republic, but I can put up with it due to the Pet Shop Boys on the soundtrack.
China looks proud, prosperous…if they ever adopted the free market and more importantly embraced human rights fully, they would be the greatest country in the world.
Words of doom: "This parade will continue and so will we."
FOURTEENTH SEGMENT
I wonder if the countries who march by during the commercial break get pissed off at NBC, if they have somebody watching the American broadcast and feeling slighted. On the other hand, they might be happy that Lauer and Viera don't have to talk about them.
Oh my God, Tefolio Stevenson died! As soon as they announced Cuba, he was the first person I thought of. When you talk about what might have been, he could have challenged Ali and Foreman for the crown.
I'm now looking at twitter feeds simultaneously with fun facts about how Denmark is the best non-Asian badminton country. There was so much America didn't see or notice. Apparently a lesbian kiss got cut out, and the TARDIS whoosh was mashed up with "Bohemian Rhapsody." It drives me crazy. On the Nerdist Podcast's live from San Diego episode, John Barrowman described how you can swear and make love on the BBC and other channels but you can't show violence. And I wonder why I feel more at home when reading British novels and watching British TV.
FIFTEENTH SEGMENT
Adele and the Bee Gees. The Bee Gees actually were British, having emigrated to Australia…and that man from Fiji had a heck of a scar…and I think Bob Costas is dying inside to actually have to call these fun facts.
Alexander the Great must be pissed off in the hereafter. "I controlled the entire world, and now my home is the 'former republic of a place that didn't exist when I was alive!'"
Holy crap, the German women's team is wearing the PINKEST PINK I have ever seen. Who designed those outfits?
Matt Lauer is saying that the uptempo music is making this the fastest Parade of Nations Costas has ever seen. Seriously, can't they just stop a little?
SIXTEENTH SEGMENT
Why is Hungary so good at water polo? Have we ever figured this out?
The Independent Olympic Athletes are fascinating. I hope they give the marathoner a visa. Even temporarily. We all deserve a chance to compete without rules as stupid as the Oscars' rules for Foreign Films and Documentaries.
I would root for Iraq.
Women's boxing is an Olympic sport now? I would definitely watch that. Heck, I'm watching everything.
The IOC, I am sorry, has a history of incredibly dumb and political decisions, and the refusal to acknowledge forty years since Munich is one of the worse in recent memory. As soon as they allowed giant boycotts they lost the right to say the Olympics are not political.
SEVENTEENTH SEGMENT
I just learned that every country has a female representative for the first time ever. THAT is progress.
The wide-eyed, well-toned Englishman carries the Kenyan flag. I'm not surprised. Having now run a marathon, you need the fewest extra muscles possible to make that work.
EIGHTEENTH SEGMENT
Laos, or as they say it, Lao.
I have to root for Latvia. The most fearless and unstoppable individual I have ever known is Latvian. If the whole team was like her, they would kick serious butt.
Bob Costas keeps relating everything back to the original Dream Team. It was twenty years ago today, Bob. Get over it.
This is way more of a chore than the Oscars.
The Marshall Islands ranks with American Samoa and Fiji for best ceremonial garb.
Okay, I'm sorry, call me corny, but "The Mauritian Magician" is a great nickname.
NINETEENTH SEGMENT
Really, Bob, Mongolia's flagbearer outfit is ALWAYS a highlight?
Nauru…one of the worst-run and unhealthiest nations in the world. Just saying.
Ah, the Netherlands, very classy sweater vest outfits, followed by the incredibly chopper New Zealand team.
I'm starting to go slightly mad. But then I heard the sweet sounds of Electric Light Orchestra and suddenly I was back.
TWENTIETH SEGMENT
Poland has a gigantic team…bigger than I expected. I'd like to see Agnieszka Radwanska take a gold medal home…how rare is it we get a second chance.
Qatar women can pack a pistol.
And Maria Sharapova carries the Russian flag. She and her teammates look like they're staying at a Dascha in the Tolstoy era.
I don't know how much you can call Rwanda "a huge African success story."
Just found out that was Ewan MacGregor (who will always be Trainspotting and Beginners and not those three sci-fi films I thought existed for me) and my darling Emily Blunt narrated the opening sequence. Two more UK people you couldn't find.
TWENTY-FIRST SEGMENT
I am sorry, I have run out of things to say about the Parade of Nations. There's only so much in the end, you know? Bob Costas has even given up. He talks about completely different sports and other events which have nothing to do with the competition.
Interesting to see Pau Gasol looking quite dapper and Queen Sofia doing a massive arm wave AND the man with the pink hair.
How many ways can you say a country is large?
I really love that Costas retold the story of Jim Thorpe and Gustav V's conversation. I read that when I was in elementary school and never forgot it. It may be one of the greatest stories of American humility.
The Swiss women are beautiful. I don't know what that means, but it works.
TWENTY-SECOND SEGMENT
The flags on the hill are an impressive sight. Boyle planned this out very well. That being said, two U2 songs in a row when there's so much great music from these isles still unplayed is a bit unnecessary.
No. NO. Do not tell the story about the fruit vendor setting himself on fire! Just because we can't avoid politics doesn't mean you have to stress the point.
On that note, watching all of these people walking through in their chosen clothes, waving their flags, so happy, reminds me of one of my favorite things ever written about the Olympics. David Wallechinsky, in his Complete Book, wrote that the United Nations brings together career insular diplomats, "usually the worst their country has to offer." The Olympics represent the truest cross-section of the world, rich, poor, every job under the sun, every ideology and belief. Maybe that's why we keep watching year after year…to see our selves in a way no reality show could ever hope to depict us.
And the Idi Amin joke? REALLY CLASSY.
TWENTY-THIRD SEGMENT
Mariel Zagunis will remember this for the rest of her life. Representative of a team with more women than men. This is fantastic…and Kobe Bryant actually looks likable on a night like tonight. The iPhones out…I mean, that's what I would be doing. Zagunis is thrilled.
Michelle Obama and Mitt Romney both dead even tonight in classiness. It's funny…THIS is Romney's element. He would be a fantastic IOC president, with one eye on preserving tradition and another on raking in the financial lucre, Salt Lake City notwithstanding.
I'm rooting for Misty and Kerry.
This is brilliant. "Heroes" is the perfect music, even better and classier costumes than the USA, the stadium erupting in glorious storms of confetti…7 billion pieces. There are no happier athletes. And I'm sorry, I'm rooting for England as much as possible. It's their turf. They're pulling themselves back up, and they're my favorite underdog.
Costas, no, it took you four minutes to recognize this song? PLEASE!!!
William and Kate will be a heck of a king and queen. Trollope would have written a fine novel about them.
TWENTY-FOURTH SEGMENT
Will you just let the Arctic Monkeys sing and play and shut the flying fuck up you ridiculous NBC commentators I AM GOING TO FLIPPING KILL YOU AND I NEVER THOUGHT I COULD HATE YOU WILL YOU LET THE ARCTIC MONKEYS SING?
"This is a great cover of this song!" THEN LET US F==KING LISTEN TO IT!!!!
Nice to see Lord Sebastian Coe, one of the most brash and outspoken Olympians in history, let alone the UK. He looks so clean-cut now.
"There is a truth to sport, a purity, a drama, an intensity, a spirit which makes it irresistible to take part in and irresistible to watch…to you is given something precious and irreplaceable, to run faster, to jump higher, to be stronger…and we can tell our children and grandchildren one day that when the time came, we did it right." – Lord Sebastian Coe in the best spoken words of the entire night not from Shakespeare
Those are fireworks.
Daniel Barenboim and Ban-Ki Moon just helped hand the flag to Muhammad Ali, 70, ravaged, but still strong and standing.
Sir Steven Redgrave, five-time Gold medalist, carries the torch. He's no Doctor, but he'll do.
TWENTY-FIFTH SEGMENT
The final run with the young athletes was a moving one…Boyle and the Brits put together a genuinely moving ceremony. There was even a beautiful moment of calm before the Parade of Nations, with Emeli Sande's performance of "Abide With Me" to honor the 7/7/05 attack victims. You may not remember it. That's because it was completely chopped out of the broadcast for that STUPID SEACREST-PHELPS INTERVIEW!!!
The new flame design with the 200 copper leaves…everything here was so beautiful. WHY did NBC screw up this broadcast? It was the ultimate moment to get out of the way.
Okay, I was wrong before, THESE are fireworks, and they're going off to "Eclipse." I so wish I was there right now.
Sir Paul begins with "The End…" this is the most unexpected thing he could have done.
It's bizarre…for the first time, I hear McCartney's age…he sounds 70 and weaker…but the energy is still there, the joy in performing, and this entire stadium is rocking out, singing along. So you should be.
Nothing but happy people, although they're only showing Teams USA and UK. Are the other countries confused? Steadfastly refusing to tap their feet?
And now Sir Paul McCartney has turned into Mitch Miller…but he ends it with the old Paul screaming and going nuts. No better way to end things…
I need to let one other voice, however, get the last word.
"You don't have to tell the Queen something twice." – Danny Boyle