Monday night, while watching Meryl Davis and Charlie White take home a magisterial gold medal for the USA during Ice Dancing, all five male Addisonians ended up in a twitter conversation regarding how attractive the female halves of the pairs were. (Including Travis, heroically joining in from a stalled Megabus.) My own comment was that this relates to why I love figure skating, as mentioned in my earlier recaps: the particular meld of athleticism and aesthetic gracefulness. Female figure skaters in particular look like Gainsborough and Reynolds paintings come to life in their elegance, but more importantly, they have trained their bodies to do things hardly any of us are capable of doing. Quadruple jumps and spins on ice at incredible speeds on bodies that have less muscle? Call me astonished every time.
Bob Costas ends his introduction with this bit of broadcasting brilliance: "We'll begin at the sliding center for the third run of women's bobsled…but (he waves his finger and manages a smile) not just yet! We'll start there when we get back." Nice, Bob, to not remember when the commercial breaks are placed. At least this isn't as bad as the time you referred to a botched game as a "blow job" during your very first year as a broadcaster. (1974-75 ABA season for the Spirits of St. Louis)
AN INTERESTING BREAKFAST: Said bobsledding begins leaving me thinking they've almost run out of things to say about these races apart from "BMW" and "It's so important to start fast."
More adventures in commenting: after a gorgeous montage of Gracie Gold's training, including a shot of her and Apolo Ohno doing yoga on the beach at Santa Monica, they cut in the next break to Elana Meyers, laughing in a little black dress, saying "I eat figure skaters for breakfast. " If the other women's bobsledders are like Meyers, they're the sort I want to hang out with. Meyers is clearly uncoached in her interviewing skills, and she's refreshingly fun and very clear about how much work goes into her sport–she can bench-press the weight of her two-person sled. And with all the emphasis on how fast you have to be out of the gate, the necessary prowess here, to run, carry, and then concentrate in 60 seconds of steering.
Meyers's teammate Lauryn Williams is the main attraction tonight. A gold medalist in the 4X100 relay at the 2012 Summer Olympics, she now bobsleds, and tonight was aiming to become the first American to medal in winter and summer since Eddie Egan, gold medalist in '20 (boxing) and '32 (bobsled…and check the '32 bobsleds out).
On Williams's path to glory…J. and I have talked much about how this is an Olympics of seconds, and Germany loses to the Netherlands by two-hundredths of a second, only for the Netherlands to be knocked off the medal podium by one of the American squads. Canada then leads by  a full second. Williams and Meyers get off to a tough start and…it reminds me of playing the Lillehammer Winter Olympics video game on my Genesis. Hitting all the wrong angles and skidding into the second and third curves. Meyers in steering rights the course just over halfway through, but it's too late and they lose by a tenth of a second. But the mood is admirably optimistic.
MEN'S GIANT SLALOM, OR, TURNS ANDREW DOESN'T TAKE: It's been odd for me to write about skiing, and here is why: having finally gone skiing myself, I have a great deal of respect for how these men and women can race down a hill, holding and strapped to metal, and be able to STEER through all these gates at this speed. Because it is not easy to shift position on skis when you're going on a wide open, unmarked and uncoursed slope. I'm typing this while watching Marcel Hirscher of Austria and Alexis Pinturault of France glide with their bodies in a sleek, controlled manner, almost no exhaustion on their faces at the end, and I can only wonder…how?
NBC's coverage has been slanted, of course, towards Ted Ligety, who has devoted his career to an event no American has ever won. and his line is so superb that he barely sprays any snow except on one sharp turn where he completely turns himself sideways to get under control. He crosses the finish line almost a full half-second ahead of the pack…and that spin was as impressive as any figure pirouette.
THE JEWELS OF THE OLYMPIC CROWN: The broadcast begins with a look at America's Polina Edmunds, 15, daughter of Russian emigrants and the youngest American skater since Lipinski in '98. This is her first senior international competition, and she looks every inch the teenager. Her program, set to "Pink Cherries" and "Besame Mucho," is full of youthful extravagance of gesture, but her jumps are perfect and her stick-like body is a kaleidoscope in the spins. It's a rare uptempo program perfectly suited to one so young, and the skate thrusts her into first place.
South Korea's Yuna Kim, the 2010 gold medalist, is going early due to a brief sabbatical which saw her lose her world ranking. Like Edmunds she wears yellow…unlike Edmunds her music is Stephen Sondheim at the height of his powers, "Send in the Clowns,"and she is feeling every note, her body stretching so long and far that I wonder if it could stretch across the span of the rink with a bit of will. Her jumps are flawless, and the crowd only applauds at the final spin after she leaps right in the middle. Apparently her warm-up was problematic at best, but this shows no signs of struggle, done with all the effortlessness of a master courtier. It's a skate that puts her almost fourteen full points into the lead.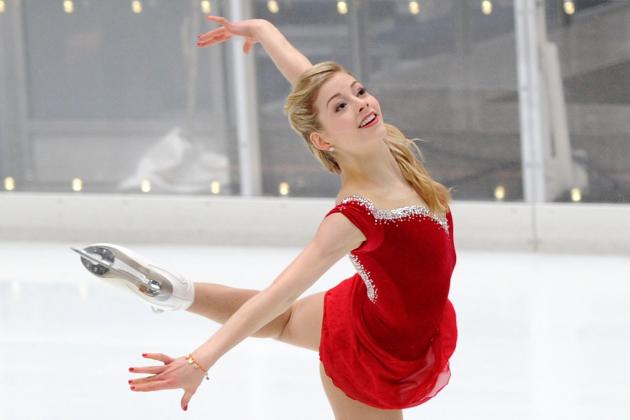 Gracie Gold, whose performance in the team long program was one of the most daringly perfect I've ever seen, comes out of a sepia-tinged montage of the contenders to perform a routine set to Grieg's "Concerto in A Minor," wearing red as opposed to her long program blue. "She looks like the figure skating figurine in a jewel box," but she is strong all too human, recovering easily when she lands backwards on the triple lutz with no sign of flailing. Her choreography is timed to the music's crescendos and she looks remarkably caught up, her jumps a bit unsure, tight, but her poise unfailing. It's not as sterling as her first Olympic exhibition but she deserves all the credit in the world for pushing through this. She earns a 68.63, 6 points behind Kim and a little behind her personal best, but her expression makes it clear she knows this is the appropriate score.
A giant ovation for Yulia Lipnitskaya, also 15, who looks even more mature than she did at my first glance of her. Her program, set to a song called "You Don't Give Up On Love," begins from a kneeling position and retains a certain drama from the moment she rises. The jumping is tentative, but watching her spins, legs, and positions is to see an artist in action. Although she crashes on the final triple flip, she recovers to assume her last maneuvers, including a picturesque concluding spin. Only when she kneels down to end and looks up again do we see the teenaged disappointment on her face. The crowd doesn't care, pelting the rink with bouquets for the local heroine, and despite her wreckage, she ends up in third for a moment.
Carolina Kostner of Italy, skating to "Ave Maria," is a tall, towering figure, womanly at 27 (and in the picture at the top of this article) compared to her teenage counterparts, and she skates now with a youthful freedom flowing from years of work and skill, of knowing what it takes to succeed. She never falters in the jumps, and perhaps more than any of her competitors, almost every moment of her program (magnificently timed) could be frozen for a painting. A moment after I type this, the broadcasters call it "a work of art." She earns a 74.12, easily taking second.
Ashley Wagner wears what looks like the most spectacular diamond-studded corset in the world, and her piece of music is "Shine On You Crazy Diamond." Wagner has apparently been working like a demon the past month in an attempt  to justify her selection to the American team, but there is a difference between excessive effort and the considered planning of a Kostner. Her first leaps are clumsy, and her whole body looks tight, but a triple loop timed to the part where David Gilmour's first guitar solo takes off results in a second half much looser and better, on the level of Kim, Kostner, and Gold. The skate puts her into fifth, but her reaction this time is a wide grin and two thumbs up.
France's Mae Berenice Meite, the European champion, is skating to the same Prince song Jason Brown chose for his short program, and immediately reveals herself as a kindred spirit with two flying-off-the-ground triples done with vivacious flair. Her hand touches the ice coming out of her third jump, and she loses a bit of momentum, but it's still good enough for eighth.
Adelina Sotnikova, 17, looks very conservative compared to the others as she skates to the "Habanera," which immediately puts me in mind of Katarina Witt, who was one of the most beautiful people in the world in my youth. Sotnikova has been a bit overlooked this Olympics, but three flawless jumps and an epic spin which lasts a good seven seconds or so with plenty of leg lifts make me realize we could have been concentrating on the wrong Russian…two years makes a good deal of difference. (I could show you my writing and you would see.) The skate ends with her taking her body from a T into an overhead triangle formation that looks as dangerous as it is beautiful…and she earns 74.64, leaping her into a tight second place Kim is not used to.
Mao Asada of Japan, the 2010 silver medalist, has already announced her retirement plans. She has suffered from the death of her mother and, much less dramatically, the pressure of being a celebrity in Japan. As a tribute to her mom, she has picked Chopin's Nocturne in E-Flat Minor, but she falls on the first jump, and unlike Kim, Kostner, and Sotnikova, there is no poetry to her performance until the end, when the arcs of her last spin form curved lines Da Vinci would have admired. Asada falters, and Kim, Kostner,  Sotnikova, Gold, Lipnitskaya, and Wagner form the final group of the free skate. And all I can think is what a down to the finish duel this will be in the end. And again, proof that no matter how much you turn the promotional focus on certain athletes, every event in the Olympics–and this is what gives them their magic–offers up new heroes and heroines to swoop in and assert their dominance. To borrow the line spoken by Darkwolf which I quoted in this title, believe what you want about the Olympics, but you cannot deny the facts revealed in the heat of competition.