Nicolas Cage. We love him; we hate him; we keep coming back for more. Cage Match is a new monthly column that pits two blindly-picked Nicolas Cage films against each other.
We aren't here to dissect or review these films in their entirety – only their Cage-acity. Jason and Chris watch two Nic Cage films and are each assigned one to argue that it reigns Cage Supreme. The three categories they assess are: Cage of the Mind, Cage of the Body, and Cage of the Soul.
Two Cages enter; one Cage leaves.
Chris: Gone in Sixty Seconds
Quick Synopsis:
A car thief steps out of retirement and gets his old crew back together to steal 50 cars in one night to save his brother's life.
Running Time: An unnecessary 107 minutes.
Cage of the Mind (Depth of Character):
Memphis Raines, like Michael Corleone, is just trying to do right by his family. But, like Michael Corleone, he keeps getting dragged back into the darker side of humanity. This film is basically the Godfather of car movies is what I'm saying. Memphis is a master car thief and Cage imbues him with the relaxed swagger of a much more competent man.
This is Classic Cage in his third Jerry Bruckheimer film — Academy-award-winning Cage, the man who has worked with Martin Scorcese and hasn't yet made Captain Corelli's Mandolin. Character? This is his character. And he plays it like a fucking champion.
Whether he's taking a moment to stare meaningfully at nothing or soaking in the dulcet tones of War's "Low Rider" for what seems like an eternity, he's there, in center stage, pausing just long enough before taking action to make it weird.
Cage of the Body (Physicality):
Nicolas Cage does most of his own stunt driving in this movie, which sounds impressive as long as you don't realize it takes 69 minutes of a 107-minute film to get him behind the wheel of a car, 85 minutes till he starts the big car chase. But he don't care; he's Nic Fucking Cage, and he still went to three different stunt driving schools in preparation for the role.
Classic Nic Cage brings all manner of gesticulations to the table. We get the jerky, explosive body movements of Vintage 80s Cage, but we also get the subtle eyebrow action of a man who knows the ladies are watching. And by ladies, I mean lady. Angelina Jolie. And she has to watch cuz she's being paid to.
Cage of the Soul (Misc.):
This film highlights the age-old Nic Cage paradox: a film that he stars in and in which he barely does anything. And yet he carries it. Who would you rather follow? Poor Man's Ed Harris and his weird mopey smile-face? Poor Man's Forest Whitaker? Baby Keanu? No. You want to see Nic Cage get driven around by Angelina Jolie as they seduce each other by trading breathy car parts pillow talk nonsense they blow into each other's mouths because they're so close together but they don't actually wanna kiss each other.
Nicolas Cage drives a car the way lesser wizards ride unicorns: after way too much study and no practical experience. But drive he does, slamming into this garbage heap of racist stereotypes and lazy plot devices with a 1967 Shelby GT500, zig-zagging his herky-jerky way into internet meme history. So buckle up, strap in, and wait a minute … wait a minute …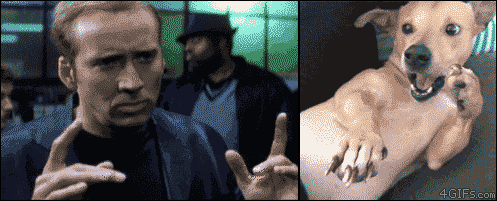 Jason: Trespass
Quick Synopsis:
A husband and wife held for ransom in their own home soon must come to terms with their own personal and marital problems while fighting to stay alive.
Running Time: A merciful 90 minutes.
Cage of the Mind (Depth of Character):
Right off the bat, we get into a classic Cage character. As pompous business guy Kyle Miller, Cage begins by spouting off business guy stuff into a cell phone while driving in his business guy car to his amazing business guy mansion.
The best part of Cage's character in this flick is the random, almost Tourette-like insults and turns of phrase he comes up with during his angry, passionate outbursts. It's almost clearly ad libbed on Nic's part with such gems as Shithole, AssFuck, and 10 Hundred (instead of one thousand).
Cage pulls out smart little tidbits ("I'm worth more dead than alive") to keep the kidnappers at bay but also shows off the innards of his character with more than just his outfit. It's easy to believe he knows what he's talking about and that he's serious. Stalling tactics aside, he's at least attempting to bring some depth to this spoiled yogurt of a film.
Cage of the Body (Physicality):
The Cage's literal body looks stretched and plump at the same time in Trespass. A sign of the actor's age, I suppose, but it creates a weird juxtaposition for the lean, off-kilter every man that Nic usually embodies. He looks like Tom Cruise's Tropic Thunder character but it's not a joke. Not even close. This is serious, guys.
Kyle Miller is a frantic, stumbling, sputtering mess of a man. He goes from sitting still to screaming like a banshee with no regard for personal safety against men with guns pointed at him. He's reckless. Almost as if he is more dangerous than we are made to believe (SPOILERS…jk, it's obvious). He eventually shoots a guy with a nail gun which is better than any single part of Gone in Sixty Seconds. It's not subtle but a lot more fun to see Cage bounce around than sit still.
Cage of the Soul (Misc.):
In this film, we know deep down that Cage is itching to turn it up to 11. Not only physically or mentally but in a way only Nic seems to be able to harness. Hitting the acting hammer onto a bonkers nail made of magic. A new level of awareness on a plane of existence only known to him. But he has to go through the throes of being a pudgy business man for half an hour before crazy can come out and play. Unlike Gone in Sixty Seconds, I can't wait to see what happens.
After a scene where we see him almost get his kidney cut out, something changes in Kyle Miller. He becomes Cage Miller. A hybrid of the meek businessman clearly playing possum that is just a character in a movie and the hurricane of madness that is a fiscally irresponsible Cage who is 100% doing this for the money but giving it a good try anyway.
The Final Question
Which was actually the better movie?
Chris: Honestly, I have to go with Trespass. Sixty Seconds is such hack filmmaking, like Bruckheimer pulled up his shit-movie template and plunked different tropes into it. Classic Cage is wild, but I think this film catches him after his wave has crested and before he really owns his latter-day insanity. It doesn't help that he has very little to do for most of the film, though he does everything he possibly can with what he's given. He drove away with a Shelby Mustang, so he has no complaints, but Trespass Cage is working on a simultaneously much more subtle and balls-out manic level. It is the Ineffable Cage.
Jason: While it's true that Gone in Sixty Seconds is a more palatable film, the thing about Trespass is it's a better Cage movie. He is more bonkers, more active, and more silly than the stoic redeemer who barely moves, much less drives, in the car movie about people who drive cars around. I gotta go with the silly, little baby that was assigned to me: Trespass is the clear winner.
WINNER: Trespass
Well, that's it. Welcome to Cage Match, people. Tune in next month while we tear into Red Rock West and Moonstruck.
Don't agree with our choice? Vote below in our Cage Match Survey to pick a new winner and leave a comment telling us why.