Okay, I am going to do this in much more concise fashion this year, since I never even finished all my write-ups about the best stuff on TV from last year. The top ten TV shows of the year will each get a few sentences and then it's just lists, lists, lists. Hope you like lists!
1. Bob's Burgers
The rest of the top ten have much more craft and polish than Bob's Burgers, but I have no qualms with this decision. No show on television was such a pure pleasure to watch week in and week out this past year, and that distinction goes a long way for me with TV (I tend to appreciate darkness and the esoteric a bit more in the closed form of cinema). So Bob's Burgers is the best! It's a winning comedic creation that showcases the surreal and strange in all people and places while celebrating the mundane and awkward of everyday existence. Also, it apparently makes me write with a lot of alliteration.
2. Louie
I'm still scared of even writing about this show. In objective terms it is a small show with a minuscule budget on a not-quite prestigious cable network, but it feels absolutely vast. In its third season Louis C.K. challenged himself, breaking the pattern of disconnected episodes with discrete narratives even within one episode that had marked the first two seasons, and created a series of stories that spanned several episodes. It's not quite serialization, but it felt like a big change and resulted in the amazing arcs where Louie pushed his boundaries by seeking a new girlfriend and auditioning to replace Letterman. His subsequent emotional collapse and reverie in China were the most sublime moments of TV from this season.
3. 30 Rock
There is something to be said for sticking the landing. 30 Rock was one of my favorite series in its first three seasons, but I felt that it had surpassed by newer shows since then. What a surprise then, that Tina Fey and co. decided not to fade awkwardly into oblivion like The Office, but went to work and made what might have been the series' best season. Despite never having been a show that relied greatly on emotional hooks 30 Rock moved me to tears multiple times in its last episodes as Liz Lemon got married and adopted two kid even as the job she lived for disappeared. It wrapped up every loose end in a finale that was full of both wonderful closure for the characters and a stirring tribute to the history of TV.
4. New Girl
I would have never guessed. When New Girl debuted in 2011 I was curious because of my long-standing love for Zooey Deschanel, but the series did not have a strong comedic voice early in its run and lost me with an over-reliance on Deschanel's "quirkiness." I checked in again around the finale and found the show much improved, but it was season two that really made New Girl take off. Centering the season on a "Will They? Won't They?" that actually sizzled between Descnahel's sweetly daffy (bear with me, she's likeable even if that description is accurate) Jess and Jake Johnson's Nick, an irascible senior citizen in a 30-year-old's body. By the time they kissed in the instant-classic episode "Cooler" New Girl had become one of the best shows of the year.
5. Justified
With four seasons in the book Justified is probably more than halfway through its run, which means the show that was born as a procedural could easily have begun growing stale. Instead, the show-runners broke open the season's structure, focusing on a central inciting mystery, rather than a big bad guy like the first three seasons. This lead to a sense of propulsion and uncertainty that crept into every facet of the show, amplifying what had already been excellent. By the time the central mystery was solved and the subsequent battle lines have been drawn Justified had reached the same heights it found in the Shakespearean second season.
6. Game of Thrones
Any discussion of this season of Game of Thrones from this season begins and ends with "The Rains of Castamere." Just as it with the first two seasons, Game of Thrones played George R.R. Martin's ruthless and expectations-shattering plotting to the hilt in its penultimate episode. The resultant depiction of the infamous Red Wedding was one of those TV moments that instantly becomes immortal. The shocking (for the unspoiled) spilling of blood was the centerpiece of the season, but the series' increasing focus on the psychological torments and shattered lives that warfare provided great new material for this sprawling TV epic.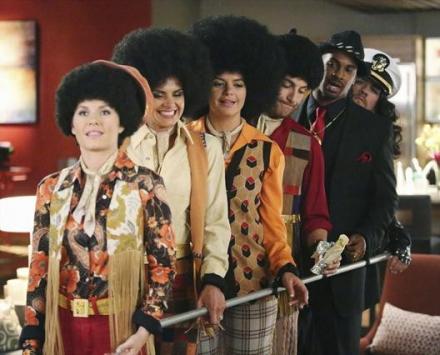 7. Happy Endings
Alas, poor Happy Endings, I knew you well. Over the past two season there was no funnier show on television. The cast was uniformly excellent, throwing themselves into their roles with an incredible energy and commitment and the writers were dozens of hilarious punch lines into every spare second. Not knowing what to do with a comedy that didn't blandly assuage old liberals like Modern Family does ABC booted Happy Endings around their schedule with impunity (it aired on 4 different night this season) until unceremoniously cancelling it. Thus ends one of the best cult shows of the past decade. What a shame.
8. Mad Men
I'll admit, this is the first time I've been sort of disappointed by a season of Mad Men. Maybe the bar was simply set to high by last season, which I thought was the show's best, but I spent too many episodes this year wondering when Mad Men would bear down and offer the incisive social and emotional drama that it specializes in. It got there eventually with a run of late-season episodes that brought the rest of the season's action into sharp focus, but this still felt a bit like a season spent setting up the next year's final episodes rather than standing on its own. But slightly disappointing Mad Men is still better than just about anything else on the air and is well worth watching.
9. The Americans
Before I had seen a single frame of The Americans I thought it sounded a bit too generic to be really interesting. A thriller set in the early 1980's, The Americans centers on a married couple living in the suburbs of DC that is utterly normal in their predictable interests, simmering family tensions, and slowly dying dreams but for one thing: they are deep undercover spies for the KGB. On a lesser show this twist would sink the entire proceedings. The central concept would just be too high to bear (see: Dexter), but the creators of The Americans did an excellent job in their debut season. Welding the couple's marital woes to their high-tension work trying to infiltrate and undermine the Reagan administration's aggressive new intelligence policies aimed at Moscow. The result was, to my mind, the best new drama of the year.
10. Hannibal
I'll admit, I haven't even watched all of Hannibal, and it's still on my top ten for the year. A NBC adaptation of the very tired Thomas Harris characters, this show should have been an absolute disaster. Instead show-runner Bryan Fuller (whose previous series Pushing Daisies makes an interesting counterpart to Hannibal) made this into an unbelievable creative success. The show makes Dr. Lector into a supporting character and lets FBI criminal profiler Will Graham into the lead role. The latter's increasing mental instability plays right into Lector's hands, who spends the season quietly orchestrating a parade of horrific events that were so beautifully grotesque and shocking I am amazed made it onto TV at all, much less Thursdays on NBC. Once I finish it I expect that this will shoot up my rankings in short order. It's just that good.
Actor in a Drama Series
1. Jon Hamm – Mad Men
2. Timothy Olyphant – Justified
3. Matthew Rhys – The Americans
4. Hugh Dancy – Hannibal
5. Travis Fimmel – Vikings

Actor in a Comedy Series
1. Jake Johnson – New Girl
2. Louis C.K. – Louie
3. Alec Baldwin – 30 Rock
4. H. Jon Benjamin – Archer
5. Garret Dillahunt – Raising Hope

Actress in a Drama Series
1. Keri Russell – The Americans
2. Elisabeth Moss – Mad Men
3. Katheryn Winnick –Vikings
(not watching Homeland, Orphan Black, Scandal, or The Good Wife really shot this category to pieces for me)

Actress in a Comedy Series
1. Tina Fey – 30 Rock
2. Zooey Deschanel – New Girl
3. Amy Poehler – Parks and Recreation
4. Martha Plimpton – Raising Hope
5. Jane Levy – Suburgatory

Supporting Actor in a Drama Series
1. Nikolaj Coster-Waldau – Game of Thrones
2. Walton Goggins – Justified
3. Vincent Kartheiser – Mad Men
4. Charles Dance – Game of Thrones
5. Peter Dinklage – Game of Thrones

Supporting Actor in a Comedy Series
1. Dan Mintz – Bob's Burgers
2. Damon Wayans, Jr. – Happy Endings
3. Will Arnett – Arrested Development
4. Max Greenfield – New Girl
5. Chris Parnell – Suburgatory

Supporting Actress in a Drama Series
1. Michelle Fairley – Game of Thrones
2. January Jones – Mad Men
3. Rose Leslie – Game of Thrones
3. Natalie Dormer – Game of Thrones
4. Emilia Clarke – Game of Thrones

Supporting Actress in a Comedy Series
1. Eliza Coupe – Happy Endings
2. Elisha Cuthbert – Happy Endings
3. Casey Wilson – Happy Endings
4. Jessica Walter – Arrested Development
5. Carly Chaikin – Suburgatory

Ensemble in a Drama Series
1. Game of Thrones
2. Justified
3. Mad Men
4. Hannibal
5. The Americans

Ensemble in a Comedy Series
1. Happy Endings
2. Bob's Burgers
3. Suburgatory
4. New Girl
5. Arrested Development
Episode of a Drama Series
1. "Decoy" – Justified
2. "The Rains of Castamere" – Game of Thrones
3. "Aperitif" – Hannibal
4. "Pilot" – The Americans
5. "In Care Of" – Mad Men

Episode of a Comedy Series
1. "Topsy" – Bob's Burgers
2. "New Year's Eve" – Louie
3. "Hogcock!/Last Lunch" – 30 Rock
4. "A Year in the Life" – Children's Hospital
5. "Daddy's Girlfriend, Part 2" – Louie
Special Award for Songwriting: "Electric Love" – Bob's Burgers
Shows I should have watched:
Breaking Bad
Homeland
Enlightened
Veep
Girls
Orphan Black
Other shows worth watching:
Archer
Parks and Recreation
Children's Hospital
Newsreaders
The Late Late Show with Craig Ferguson
The Daily Show/The Colbert Report
It's Always Sunny in Philadelphia
Suburgatory
Raising Hope
House of Cards
Vikings
How I Met Your Mother
The Office
Don't Trust the Bitch in Apt. 23
Community
The League
American Dad